Welcome to District 8 Online
District 8 is home to 3000 members of the American Contract Bridge League (ACBL). Our District covers parts of three Midwest states and includes four ACBL Units:
Northwestern Illinois - Unit 139 (northern third of Illinois outside Chicago metro area)
Central Illinois - Unit 208 (central third of Illinois)
Southern Illinois-Paducah - Unit 223 (southern third of Illinois and western tip of Kentucky)
Greater St. Louis - Unit 143 (eastern half of Missouri)
---
♠ On to Atlanta for District 8 GNT Winners ♠
District 8 Grand National Teams -- April 29-30, 2018
---
Congratulations to the winners and runners-up in District 8's annual Grand National Team finals, held at the Community Center in Rochester IL. The winning team in each flight won a travel award from the District Board to represent District 8 in the national finals in Atlanta GA in July.
Championship Flight
1 - Jonathan Weinstein - Ken Bland - Tom Kniest - Ron Ashbacher, St. Louis
2 - Debbie Avery, Champaign IL; Martha Leary, Urbana IL; Dick Ellis, Kokomo IN; Mike Carmen & Kathy Safranski, St. Louis
Flight A (0-6000 masterpoints)
1 - Mark Boswell - Debbie Romero, Clarkson Valley MO; Mark Zellmer, Creve Coeur MO; Clay Cuthbertson, Quincy IL
2 - Richard Blumenthal, Crystal Lake IL; Mike Halvorsen, Champaign IL; Tod Moses, Sid Levin & Art Seltzer, St. Louis
Flight B (0-2500 masterpoints)
1 - Rich Pestien - Charles Young - Alin Olaru - Patrick Moos, Peoria IL
2 - Chuck Zalar - Larry Richardson - Cam Barbian - Donna Barbian, Springfield IL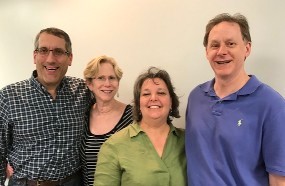 Flight C (Non-Life Masters under 500 pts.)
1 - Ken Deutch - Diane Deutch - Susan Eiger - Ken Eiger, St. Louis
2 - Judith Wagner, Belleville IL; David Stein, Carlyle IL; Vicky Stringer - Thomas Stringer, St. Louis
3 - Linda Segebart - Christie Roszkowski - Carolyn Burrell, Champaign IL; Linda Sloat, Urbana IL